By Emily Florio
Like all of us, I was not prepared to spend the spring in quarantine. I was not prepared to have two adults working in my home. And I was definitely not prepared to homeschool my kindergartener. I have been worried about my aging parents, terrified for my family in New York and missing my weekly coffee dates with friends. But between cooking nineteen meals a day, managing a triangulation of Zoom calls and trying to maintain minimum standards of organization, I can't help being held captive by the stories filling my social media feeds. I can't turn off my news alerts from dozens of media outlets. I battle rising anxiety with each click, every scroll and every breaking news alert. And I know I am not alone, but when I saw this alert hit my email, I was still shocked by the toll this year has taken on society's mental health.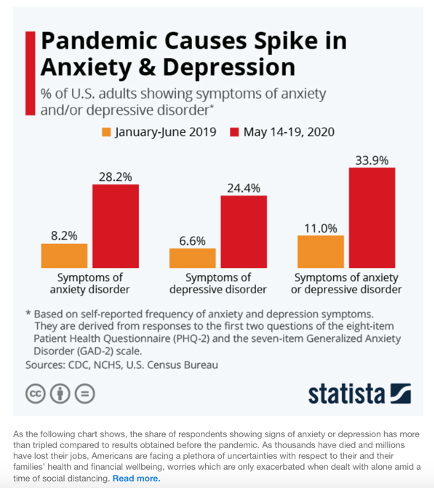 And this data was gathered just a week after the beginning of national coverage of Ahmaud Arbery's murder. Before George Floyd was murdered. Before the tsunami of necessary coverage of police brutality, systematic racism and protests that is awakening public consciousness to the realities of our country.
To battle this anxiety so that I can face and stay actively engaged in this new and overwhelming reality, I force myself to focus on the good that is coming. To think about the ways we will be shaped, the ways we will grow and the learnings we will take forward as we come into this next season.
Google says it takes 66 days to form a new habit. We are now approximately 68 days into our quarantine routine. Here are the habits I hope we keep.
There's no place like Home.  Searches for single family homes and townhomes have increased 40 percent since March. The number of searches for homes with pools has tripled and searches for outdoor space has doubled1. In the first weeks of the second quarter, Wayfair sales have increased 90 percent versus last year2. Yelp searches for Mortgage Lenders are up 82 pecent3.
Being locked in a house for months will certainly make you appreciate a spare room or a bigger backyard. And it's certainly harder to ignore the Honey-do List when you can't leave the house. But we've also enjoyed more meals together, played board games, built blanket forts in our living room and snuggled up in bed for mid-morning reading time. Having no commute, happy hours, soccer games or trips to the playground has given us time to reshape our priorities and forced us to rebalance our lives. And while I long for the days when I can send my daughter on carefree playdates, there is a part of me that has fallen deeply in love with the home we've created. And my flower beds look amazing.
Just be outside. Google searches for inflatable pools has increased over 400 percent since March. Burpee & Co sold more seed than any time in its 144-year history in March4. And over 82% of surveyed individuals indicate they will stay engaged in outdoor activities as restrictions lift5.
My mother now walks almost three miles every morning. After living in my neighborhood for over a year, I finally know each of my neighbors on the entire block. We've gotten our bikes out of the garage for hours-long rides. My daughter's favorite "science class" is observing and classifying leaves and rocks during our evening walks. There is overwhelming research supporting the benefits of outdoor activities for childhood brain development as well as research supporting outdoor activities to reduce stress and anxiety and elevate mood. There are even numerous studies that have reported restorative benefits for patients suffering from PTSD and major depression6. As the summer promises to be filled with more anxiety-inducing headlines, I hope we all we're all lucky enough to continue falling in love with Mother Nature.
The new office. In 2019, a Gallup poll noted that 39% of workers were working off-site at least some of the time. As of April, that figure had jumped to 62% of people working full-time off-site, making this time, "the world's largest work from home experiment7." The Cloud, Zoom, Slack, Teams—the process of the digital revolution was fast-tracked by COVID. During a recent meeting with analysts, Microsoft CEO Satya Nadella said that COVID-19 accelerated two years of digital transformation in only two months. MSTeams hosted a record 200 million participants in a single day during the last quarter and active daily users surged to 75 million. Zoom recently claimed 300 million active daily users8.
I've been speaking with team leaders across multiple industries. Even the most skeptical leaders are surprised by the ease with which their teams transitioned to work from home. More than half even noted an actual increase in productivity and responsiveness. With modern office space not designed for social distancing and a vaccine still 12-18 months away, many leaders are taking a "wait and see" approach to coming back to the office.
Here at J&S, Chris and Kent have advised teams not to worry about coming back to the office in the immediate future; only when and if they feel completely comfortable doing so. I am looking forward to returning to the camaraderie of the office…and escaping the chaos of working with a kindergartner interrupting every 3.8 minutes. But I am grateful for the flexibility of remote working and for the empowering of the workforce to responsibly manage workloads.
Savings are a necessity. As of December 2019, 70 percent of Americans had less than $1,000 in savings, almost half of that number had none9. And then came COVID. As of May 21st, 43 million American workers had filed for federal assistance—that is one in four US workers in 10 weeks10. One in four Americans have tapped their retirement accounts11. Dramatic images of lines at food banks illustrate the desperation of the aforementioned financial figures. Anna Kurian, senior communications director at the North Texas Food Bank, says they've distributed 6 million pounds of food in about a month, compared to 1.5 million pounds in the prior two months11.
We have created an entire generation that knows what it means, what it really feels like, to have no money. My grandmother—born 10 years before the Great Depression—keeps one credit card she pays off monthly, paid for her house and cars with cash and still steals all the sugar packets at restaurants. Financial planners have long advised to have three months of expenses in savings. Instead of viewing savings like a luxury, saving accounts now feel like emergency essential to be listed alongside batteries and flashlights. Consumer spending dropped over 13 percent in April. Conversely, the rate of Americans increasing their personal savings hit a record 33 percent12. Luckily, my grandmother taught me how to wash, fold and store aluminum foil. Greater awareness and appreciation of resources feels like a positive habit to hold onto.
Technology shapes us. We hosted my grandmother's 101st birthday via Zoom. Online grocery sales have grown over 40 percent in five weeks13 and Americans have increased their mobile and streaming video use by more than 40 minutes14. But technology also drives inequalities. 40 percent of kids from low income families and 35 percent of kids in special education are doing little to no remote learning. 83% of kids from America's wealthiest families are doing it daily15. School systems rushed to buy laptops for students and even converted school buses into mobile wifi hotspots. But Paul Reville from the Harvard Graduate School of Education recently stated, "students without access to education of quality will be at an enormous disadvantage for years to come.16"
Connecting to family, remote work, distance learning, online religious services, exercise classes, grocery shopping, entertainment and even medical services have all been transformed by the pandemic. Almost every aspect of modern American life has shifted online. Adoption of technology and online services has accelerated by almost two years in 6 weeks17. And given this is an acceleration of adoption trends and not a change to the technology landscape, we can expect these behaviors to hold steady and continue to increase even after restrictions are eased. The question of the role of technology in our daily lives—how much is too much?—has been tabled for the foreseeable future. The necessity to capture, maximize and solidify relationships with customers in the digital space has never been more vital. The opportunity to differentiate a brand via experience and purpose has never been greater.
We are living through a global pandemic, historic unemployment and economic insecurity, racial equality and social justice protests …. and it's only June. We still face what will most certainly be a divisive election season, racial social reckoning and justice, the fall flu and virus season, re-opening of schools and continuing economic hardship. There will be many more lessons learned in 2020. Many more challenges to overcome. Brands that use challenges to innovate, that embrace changing consumer behaviors and brands that follow their purpose to engage and strengthen relationships with stakeholders will survive and flourish in 2020.
In the meantime, take a walk outside, check on your friends, wash your hands and stay healthy!
compass.com
Q1 2020 Wayfair, Inc. earnings report
Yelp: Coronavirus Economic Impact Report
Reuters "Home gardening blooms around the world during coronavirus lockdowns"
May 2020 CGPR Study
Psychology Today "Nature's Role in Mental Illness" September 2019
Gallup Remote Working Trends, April 24, 2020
Forbes, "How Zoom Doomed the Airlines" May 26, 2020
GOBankingRates' 2019 savings survey
S. Department of Labor
Vox "The Current Hunger Crisis in the US" May 9, 2020
BankRate April 2020 savings survey
S. Department of Commerce
Coresight Research U.S. Online Grocery Survey 2020
eMarketer US 2020 Media report April 2020
ParentsTogether via SurveryMonkey as reported by NPR
The Harvard Gazette, "Time to fix American Education" April 2020